Risky Online Relationships
Hang on for a minute...we're trying to find some more stories you might like.
In today's society online relationships are more common than ever, but how can you tell if you are walking into something risky or unsafe?
If there's one thing the internet has taught us it's that people aren't always who they say they are. We were taught at a young age what "stranger danger" is and that in real life people can easily lie about who they are, but now with the internet it's even easier for people to be someone they're not. However, the majority of us have major stereotypes as to what kind of people are online predators. We all have seen the news stories of the creepy old guys who prey on little children and try and convince them to meet up in person. However, its important to keep in mind that the news usually covers the most extreme cases of online predators, so it doesn't necessarily mean that an old guy has to be messaging you for someone to be an online predator.
So how exactly do you know when an online relationship is risky or unsafe? Most of the time online predators will do whatever it takes to get you to trust them. This involves a lot of manipulation and them telling you what you want to hear. You may also experience some form of uncomfortableness or feel as if you are vulnerable. This isn't just you feeling awkward in a conversation. If you truly feel uncomfortable or exposed you should change the conversation or get to a point where you feel like you are more comfortable in the conversation. Another warning sign may be if the person is an adult. According to an article by CommonSenseMedia.org, "Only 5 percent of online predators pretend they're kids. Most reveal that they're much older…". This means that a predator will most likely reveal that they are an adult, so if you are contacted by an adult (who is not trusted) you should be on the alert. Two other major red flags are if the conversation involves explicit photos or you feel as if you have to keep it a secret. Obviously, if explicit photos are being shared or are being asked to be shared you should leave the chat, but maybe photos aren't being exchanged but you feel like you have to hide the conversation or the fact that you have to keep your relationship with the person under wraps, your probably shouldn't be chatting with the person.
If you are in a toxic online relationship, you're not stuck, there are plenty of things you can do to avoid the other person. Remember, if the conversation is uncomfortable, change it to something comfortable. You can also always log-off, report the person, or block them. And of course it is always safe and recommended you talk to a trusted adult.
About the Writer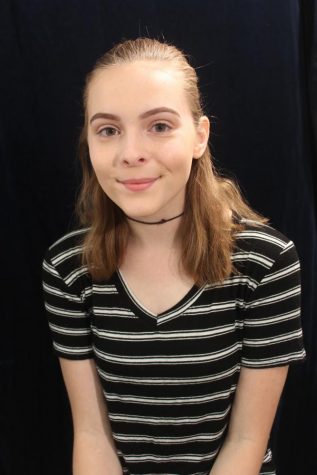 Shelby Sensat, Staff
Shelby Sensat is a sophomore at Arlington High School. She is a people person who
loves comic books, 70s and 80s music, and theater. Her dad is her best friend and
her youth group is her family. She has lived in Arlington since she was in Pre-K and
in Memphis since she was born.