BANGTAN BREAKOUT
Hang on for a minute...we're trying to find some more stories you might like.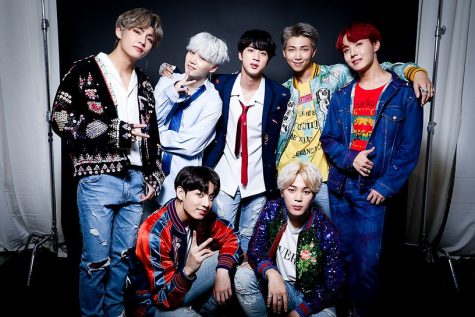 BANGTAN BREAKOUT
Known in Seoul, South Korea for their fantastic music, BTS Is a group that has started to make it big in the United States. BTS, otherwise known as Beyond The Scene or Bangtan Sonyeondon which translates to The BulletProof Boyscouts, are making history in the United States. The group consists of seven members named RapMonster, Suga, V, J hope, Jimin, Jin, and Jungkook. They have won the Billboard award for the top social artist, five golden disk awards, and many other awards. They are also nominated for IHeart Radios award for Best Fan Army and Best Boy Band. The group has performed at the AMA's, Dick Clark's New Years Rockin Eve, which marked them being the first Korean and an other language group to perform at this event, Jimmy Kimmel, Ellen, and the James Corden Late Night Show. The groups members write and produce all of their own songs with out much help from the company that works with them. The company is known as Big Hit Entertainment which is among many of the Kpop star industries. BigHit is responsible to the groups rise to stardom.Their are different ways fans first heard of them. Stephanie Gnandt heard of them back in 2014 when they were first starting to debut and instantly loved their style. Abby Whittington heard of them when she asked a friend for good music, in which this friend pointed out BTS and she started to really enjoy their music. Gail Alonzo heard of them when watching another KPOP group know as EXO and BTS was reccomendended to her from the EXO music video when she started to enjoy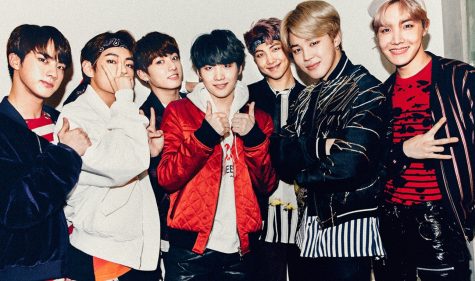 more of BTS music. Fans have a overwhelming love for BTS as a group and individuals. Stephanie Gnandt stated "They all have their own personalities and an energy that makes you happy. The group as a whole compliments each other very well and the members have an extremely strong bond. All of the Punic they produce has a meaning and is never just out there for sake of sales." Abby Whittington stated "I like how humble they are and how loving they are towards each other and their fans." Gail Alonzo stated " I like their meaningful lyrics that don't talk about sex and drugs. They're lyrics that have an actual message and reference important social topics. It's also refreshing to see humble celebrities who respect/love their fans. I also enjoy that they music for every mood." As seen, BTS is not all in the industry for just the money, they want to make people happy and inspire them to make their lifelong dreams come true. They inspire their fans in day to day life. Stephanie also stated that "The members joined a small production company even though multiple members were given the chance to be a part of larger ones. They are all very young and that motivates me to try harder and succeed. Even through they had some hardship in the beginning, especially with some unsupportive parents, they continue to do music and dance because that's what they love." Abby had said that they inspire her to do better in school and also learn about different topics especially different languages. BTS members know some English, Japanese, Korean, Mandarin, and some Spanish. They encourage fans to not give up and to always keep going and love themselves in life no matter what hardship they may face. Gail Alonzo
said that BTS inspires her to love herself and not care what other people may think. There are different opinions on BTS making it big here in the United States. Stephanie stated "I'm very proud of them for making in the USA. The only issue I have is they might start to gain fake fans who are only here for the ride and hype than for the groups well being." Abby stated "I think it's great that bts is going to the US but I hope they stay true to who they are." Gail stated "I do believe it is good for their popularity and I'm proud that they've made it this far, but I'm not too excited to have the fake fans. It'll be like twenty one pilots all over again." Many hope that BTS doesn't change due to their popularity. For example, as Gail had said, Twenty one pilots had changed style wise due to their overwhelming popularity which is how BTS shouldn't change. BTS is an amazing group of boys and shall continue to make it big in the United States and many other countries as well. The unique style of the boys may get them to stardom worldwide. If you're looking for something new and unique, you should definitely look at BTS's music.
About the Writer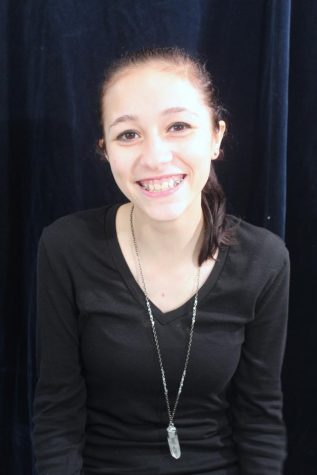 Holly Conrad, Staff
Holly Conrad was born in Memphis, Tennessee and currently attends Arlington High School as a Sophomore. Holly has aspirations to be a zoologist after high...