Alex Latham
TigerLife Sports Journalist
Not many students get the opportunity to have media production skills prior to taking a media class, but Alex Latham, a four-year film student at Arlington High School with classes starting at Intro to Film and Video to Film 2 and ending his senior year with Sports Media Production and TV Production.
Alex plans to attend UT Knoxville and pursue a career in Forensic Pathology and majoring in Forensic Anthropology. Although he will not be majoring in film, journalism is a hobby that he enjoys doing and will continue outside of high school.
Four years is a long time for growth, Alex says, "We have a lot more students involved now, I think that now that we've grown and solidified the program that its really gotten where people can enjoy what they do."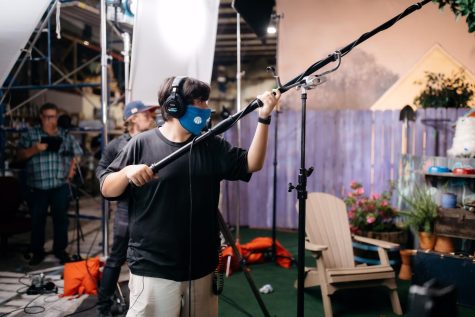 There's a lot of choices that Alex could've picked for his next film class, but Alex says his decision was easy, "I really enjoy watching sports and being able to do film and journalism while also being able to focus on sports is fun." He is happy with his choice and says that he enjoys getting to work with other students. "I've gotten the chance to work with some great producers, like Mark Vincent Jake Stoope." Even though Sports Media is a new class, Alex believes that this class is a class that's going to stay and make an impact on the Media Team.
Alex has done a handful of jobs during livestreams, but his favorite is director. He likes to be able to help and control the things that go on throughout the livestreams. As Alex gears up to take on the next part of his life, he has long lasting hopes for Sports Journalism. "I hope it continues to grow and that more students continue to take it because I think it's a really cool class and that it has a lot of potential to be a really big program here at AHS in the future."
"
Live-streaming is about trying to capture one story from multiple angles. "
— Alex Latham