The powderpuff game at Arlington High School is a much-anticipated competition by all participating. Girls in all four grades have the chance to go head-to-head in a flag football game, coached by their school's varsity football players.
Powderpuff originated in the 1940s when women had the opportunity to fill in and play football games while men were fighting in World War II. Now, years later, it has become a homecoming tradition for high schools around the country.
Arlington's game consisted of two fifteen-minute halves. The teams were made of senior girls against the other team that consisted of a combination of freshmen, sophomores, and junior girls. The senior coaches gave their team an advantage by setting up a practice for their team.
The senior class was looking good in terms of winning this year. "I believe my team is good," says Nepo Richardson, the senior girls head coach for this years powderpuff competition. "We've got some pretty all-star players. In fact, we've got people like Avery Wright, Karmen Gordin, Lydia English. Just all-star players. We're gonna have a really good team this year…I'm proclaiming this now, we will beat the other team," says Richardson, confident in his team.
Still, the other team's coach, Jhabari Ellis, has faith in his teams ability to win. When asked what his plans for the powderpuff game were, Ellis said, "To absolutely destroy Nepo. We have almost every athlete from each girls team here." It could've been anyone's game.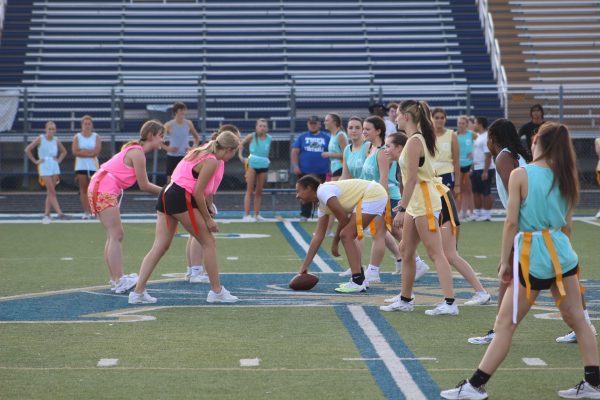 Nonetheless, seniors took home the victory, winning 12-6. Quarterback, Avery Wright put in her all with the assistance of her team. Ashlyn Bartholomew came in with an interception at the last second, guaranteeing the senior's win. In the end, it was their combination of preparation, sportsmanship, and synchronization that led them to victory. "Last year, the class of '24 didn't win. We lost to the sophomores. It was heartbreaking, and our girls were really mad; they were really upset. This year, it just feels good to get a win." said Richardson, "The biggest thing I was proud of was that the girls were actually working together. That's one thing I really admire, is the fact that they used teamwork."
Overall, everyone played hard and put in their best effort. Big congratulations to the senior class and getting to end their high school careers with a win, and good luck to the freshmen, sophomores, and juniors in the powderpuff games to come.