Starting Over: The Story of Arlington Football Senior, Mason Mullins
"

"I am very thankful for my family and the things I have been able to overcome.""

— Mason Mullins

"My injury impacted my movement by not being able to feel or move my fingers. My hand hurts after working out and landing on it wrong every single day."

Mason Reid Mullins is an Arlington High School football and baseball player and is a AHS 2023 senior this year. Mullins is very involved in church, hunting, spending time with friends, and playing sports. Mullins was born in a small town in Dyersburg, TN and moved to Arlington in fifth grade.

Throughout the years, Mullins has played football and baseball for Arlington High School and his drive has always helped both teams push and work harder for the win. Mullins is described by peers as a fun, kind, and Christian man. He has always had a heart of gold and worked hard in both football and baseball.

"I broke my metacarpal in my right hand called the Scaphoid." During his junior year of the 2021-2022 football season, Mullins was diving into a tackle and his hand rolled underneath him. "I felt a pop and it instantly went numb." Even though Mullins was hurt, he still cheered on his team and helped lead their team to victory. Mullins injury set him back for the upcoming baseball season later that year. He was potential for surgery and was very down on himself for a while, until he decided to look forward and keep his head held high.

Mullins has mostly recovered from his injuries of the passed year. "My hand hurts after working out and landing on it wrong sometimes." Mullins is an inspiration on everything an athlete can and should be. He has a spirit about him that a lot of people don't and he works hard in not only sports, but building long lasting friendships."I have learned to not dive wrong into someone and to keep my head up no matter what challenges I may face in the future."

Mullins is not only focused on sports but also his education. Mullins is extremely excited for his bright future after high school. He plans on going to college after graduation and working on getting a nursing degree.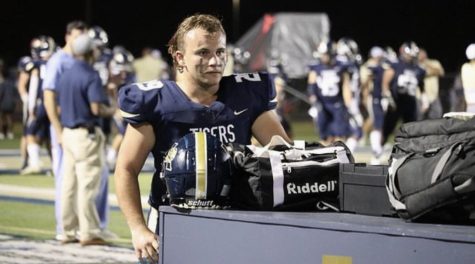 Mullins is living proof of what it takes to not only be a Arlington Tiger, but to face challenges and to make the most out of the bad times and turn them into something positive. We can't wait to see Mullins on the football field and how he play in both football and baseball this year.