University of Memphis listens to prominent conservative Ben Shapiro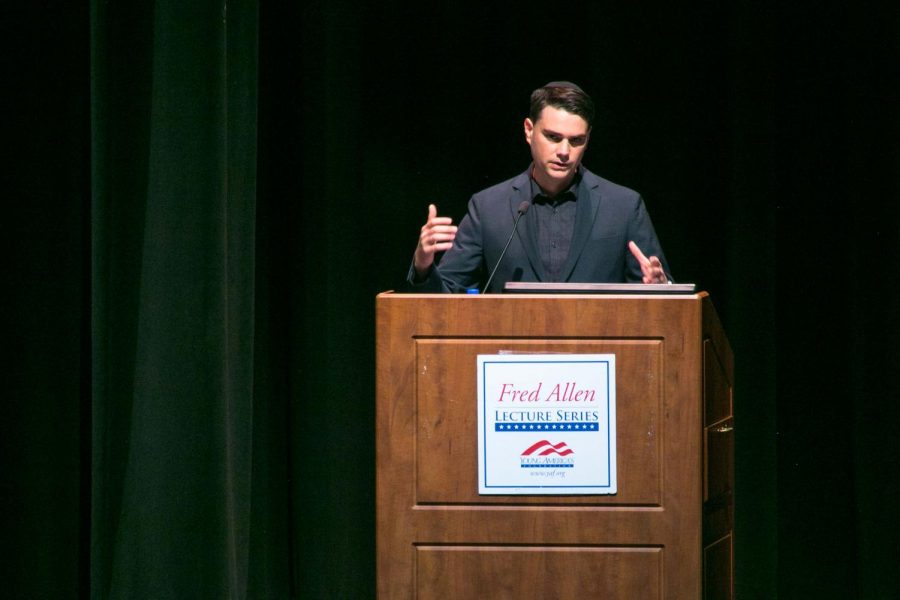 At 4:50 PM, Young America's Foundation (YAF) tweeted a photo of a line already forming outside the Micheal D. Rose Theater Lecture Hall at the University of Memphis. Doors to the October 10th, 7:00 event did not open until 6:00. That is called the "Ben Shapiro effect." 
The crowds are coming from far and wide—@benshapiro is set to take the stage at Memphis TONIGHT! pic.twitter.com/p13xxtShli

— YAF (@yaf) October 10, 2018
 As Ben Shapiro, the most highly sought conservative lecturer, entered the stage, the near-capacity crowd cheered loudly and gave him a standing ovation. Mr. Shapiro is wildly popular as The Ben Shapiro Show is the largest, fastest growing conservative podcast in the nation. 
  He has over 1.6 million Twitter followers and is editor-in-chief of The Daily Wire. His latest adventure, "The Ben Shapiro Election Special," on Fox News, dominated the cable news landscape. 
 The New York Times bestselling author spoke at the U of M, in part with the Ben Shapiro campus lecture tour, sponsored by Young America's Foundation. Out of 1,300 schools, the U of M chapter was one of six chosen to have Ben Shapiro on campus. 
 Shapiro spoke on the topic "How the left assaults your rights." He detailed the first five amendments in the Bill of Rights, and through specific events and examples argued that the American political left utilizes identity politics to savage basic rights in the name of political gain. 
 For example, when referencing due process and the 5th amendment, Shapiro defended his position by referencing what he believes was the slandering and political smearing of now-Justice Brett Kavanaugh. Shapiro believes that during Kavanaugh's judicial confirmation process, Democrats of the Senate, the mainstream media, and those who opposed his nomination solely based on the fact he was a wealthy white male, overran all sense of the basic right to innocence until proven guilty. 
 Shapiro addressed freedom of religion, by describing the Masterpiece Cake Shop Supreme Court case. He argued in favor of Jake Phillips refusing to bake a cake for a homosexual wedding, supported by his constitutional right to refuse service based on deeply held religious beliefs. Shapiro detailed how those opposed to Phillips, wanted to run rough shot through his rights. 
 The most evident example Shapiro argued in favor of, was how the majority of the political left have been "grinding the 2nd amendment into the dust." Since the devastating Parkland mass shooting, almost all Democrats have been arguing for the prohibition of the semi-automatic rifle, AR-15, along with many other restrictions on the right to bear arms. 
 In typical Shapiro fashion, after his almost thirty-minute speech, he held roughly a 40-minute question and answer session. At all his lectures, Shapiro allows all who disagree with him to ask their questions first, in order to foster discussion. Last Wednesday night, he addressed questions ranging from healthcare, free speech, to celebrities in politics.  
 I was able to ask him a question during this period about how to emerge into the journalism field and how to become an opinion journalist, such as himself. He answered by pointing out something his former boss Andrew Breitbart told him. Breitbart's statement was along the lines of "Everybody as a camera on their phone, so anybody can be a journalist." 
 Shapiro advised me to find stories and information that others do not know about, so people will become interested in my name. "When people care about you, they will care about your opinion," he said. 
"
When people care about you, they will care about your opinion."
— Ben Shapiro
 The "Hebrew Hammer" is undaunted when it comes to addressing difficult, complex, and hot-button issues, which has made him a controversial character to some and an ideological truth teller to others.  
 Several characteristics which have been associated with Shapiro's presence on colleges campuses were absent at the lecture. From the University of California Berkeley to the University of Wisconsin, hecklers, disruptors, and sometimes violent actors have been present. 
 In September of 2017, some $600,000 were spent to defend Shapiro and those listening at UC Berkeley. Thankfully, none such danger was present at the U of M.  
 In a Daily Helmsman article, Jocelynn Jordan, president of the U of M chapter of YAF stated "We're just a different community, a different environment — we're not a particularly politically active campus, not saying that's good or bad, but it is."  
 Also in atypical fashion, the lecture was not streamed on YAF's YouTube channel, so no viral "Ben Shapiro destroys" videos will likely  be extracted from the event.  
 Shapiro ended his speech by detailing how if society and people as whole simply engaged more decently and virtuously with one another, along with respecting each other's basic rights, human civilization could emerge onto higher ground. 
About the Writer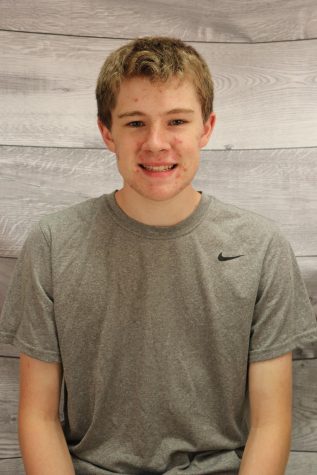 Aaron Moser, Content Director
Aaron is a Senior at Arlington High School and has lived in Arlington his whole life. He is an AP and
Honors student who is also an active member of the...