Changes in Arlington's Cheer Team's Season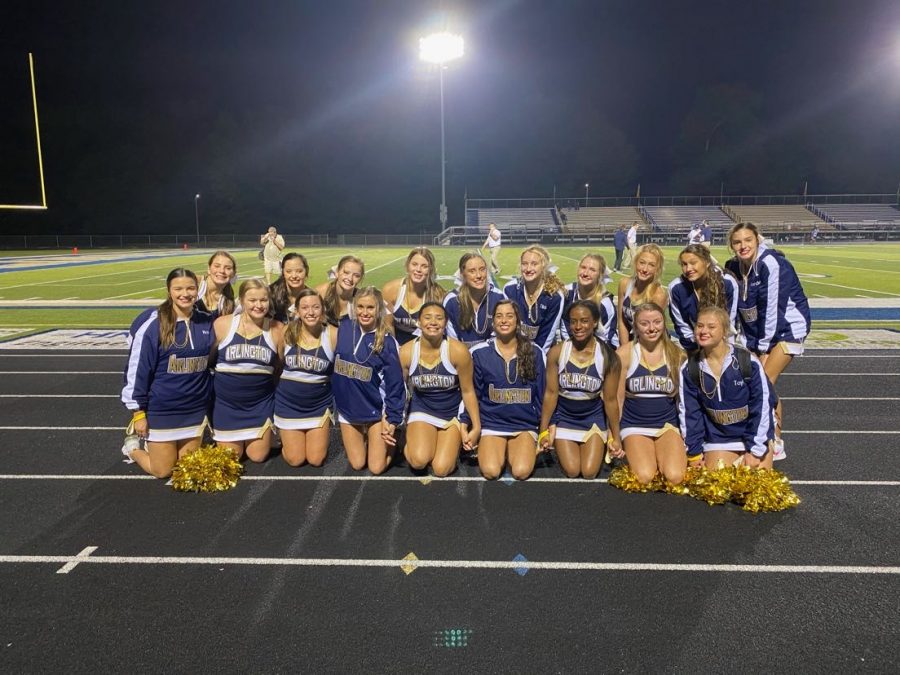 Arlington High School's Cheerleading Teams are known for their success at competitions throughout the years. This year, with COVID-19, their season has looked different. Varsity cheerleader Mallory Stevens states that "We lost four months of practice and it really shows. We struggle on basic stunts because we lost the months that we usually use to   work on basic skills and find stunt groups that work best."
Practice for the cheer team, at this point in the season, is normal besides having to wear masks while stunting. Senior Taylor VanDuzee says that "It is hard to stunt wearing masks, but we are just grateful that we get to practice."
The cheer team is also usually a big part of football games on Friday nights. They usually cheer at every game, but they now only go to half of them. The team also has to split in half and cheer on different sides of the field, according to Stevens.
The competition season is most cheerleaders favorite part of the season. Arlington's team usually has three competitions: Regionals, State, and Nationals. However, due to COVID-19, State has been cancelled. "For Regionals, only our family can come watch us compete. We still have Nationals right now, but I know that it will definitely be different than it usually is," Mallory Stevens. Although they are not very happy about all the changes in their season, Mallory and Taylor are still hoping for the best.
About the Writer
Caroline Fencl, Sports team
Caroline Fencl is a senior at Arlington High School. She enjoys spending time with her friends and
family, going shopping, and eating food. She also enjoys...