How Covid Has Affected Your AHSTigerLife Staff
Things at Arlington high school have been completely different due to Covid-19. Students have had to make numerous adjustments to these changes, including the ahstigerlife staff.
"
Personally I think the virus has made this year a lot more difficult for us"
— Kaylie Nguyen
"Personally I think the virus has made this year a lot more difficult for us," Kaylie Nguyen, a staff journalist, tells us. Arlington High School has a hybrid schedule this year, which means half of the students go on Tuesdays and Thursday while the other half goes on Wednesdays and Fridays. This means that the staff only gets to work with half of the staff during school.
Not only does the staff work with half the people, their school hours have been cut short. "This school year has become more difficult than last year because we only get 45 minutes to work in class each day we go to school, and it's never enough because of the classes I take" (Nguyen). Usually AHS uses a block schedule, which means that students switch between their classes everyday. With the block schedule, students have longer class periods. These class periods are approximately 90 minutes long. If students returned to school like they did in the past, the ahstigerlife staff would have double the time per week.
Even with all of these new changes your ahstigerstaff is working hard.  We will continue to provide new content to our website this school year.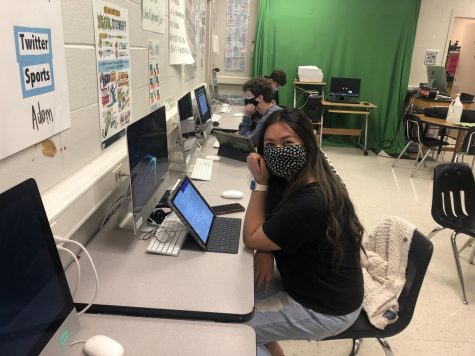 About the Writer
Cassidy McKeegan, Staff
Cassidy McKeegan is a senior at Arlington High School. She cheers for the competitive cheer team at Arlington. Her favorite things to do are hangout with...