Moser: Should Tiger fans be content?
Hang on for a minute...we're trying to find some more stories you might like.
On Sunday, Memphis ended the regular season with a 90-70 victory versus East Carolina at FedExForum. They finished 19-12 overall and 10-8 in conference play, which earned them the 5th seed for the AAC Tournament and a rematch against South Florida on Thursday. The team has overachieved in reference to the preseason prediction which had them finishing 9th in the conference. However, it is clear that the past four seasons of less than 20 wins do not meet the historical expectation when in comparison with the fact that before the 2014-2015 season the Tigers had 14 straight seasons of more than 20. This season of lackluster performance has perpetuated the frustration most tiger fans have felt.
From 2003 to 2014 Memphis made the NCAA tournament 10 times out of 12 seasons . However, in the past four seasons, the Tigers have not even made a NIT appearance. Since their last NCAA tournament appearance, the Tigers have paid 9.2 million to Josh Pastner, and are set to pay Tubby Smith 3.09 million this year to make his running total 6.18 million for two years of coaching. That's a total of over 15 million dollars for zero, you read that right, zero post-conference tournament games. It will likely take an incredible string of performances for a Jeremiah Martin-less Tiger squad to win out the AAC tournament and qualify for the NCAA tournament. As far as the NIT is concerned, the team is being considered but is still predicted to be on the outside looking in.
Head coach Tubby Smith was forced to put together a team who was filled with guys who had never been on a team together and they did out perform their predictions, but players and fans a like felt like they did not meet their full potential. Memphis lost 4 games to teams who finished behind them in conference standings and in many cases this season it felt the team lost winnable games. In November, they lost to a Alabama team missing Wooden award watch list member Collin Sexton and two starters. Later in the year, they lost at home against Cincinnati in a game filled with more Tiger mistakes, than Bearcat superiorities. The Tigers have developed and improved since those checkpoints, but it still seems that lapses in focus and effort hold the team back.
All this brings me to the question, should tiger fans be content with the results of this season? And I think it's a two part answer. I think the fans should be generally proud of the players who have had sparks and moments that have given the city optimism. They competed against Louisville in New York, and they gave Tubby Smith his first high profile win at Memphis against houston who finished 2nd in the conference. Players such as Raynere Thornton, Mike Parks and Jimario Rivers have stepped up in key games when the AAC's leading scorer, Jeremiah Martin, went down to injury. However, the ultimate responsibility of a team falls on the head coach, and I think Tiger fans should expect more from Tubby Smith when it comes to both recruiting and performance.
His class and decency are refreshing in this time of unrest and distrust in college basketball, but when a coach receives a salary that is top 20 nationally, fans are going to expect topnotch levels of success. If a team plays with hometown kids, competes until the last second, and wins games at the highest level, fans will support the team with all their heart. But if that team has achieved none of those things, such as the Tigers this season, fans will be genuinely upset and dismayed. The attendance levels for a season are often the litmus test to assess fan support, and this season's has been the worst in school history since the 1969-1970 season. For six straight seasons attendance has been declining, and it is apparent that Memphis is not currently competing at the highest level both in recruiting and on the court.
Even with this being said, there is still hope on the horizon. On Saturday, Myreon Jones a 6-3 combo guard from Georgia committed to Memphis. According to 24/7 sports, he is a four star prospect and is ranked 101st nationally, and is 5th in the state of Georgia. Along with 7 foot tall commit Connor Vanover, and some other possible commitments from top 200 prospects, such as Tyler Harris, 2018's recruiting class could be a positive stepping block for the future.
About the Writer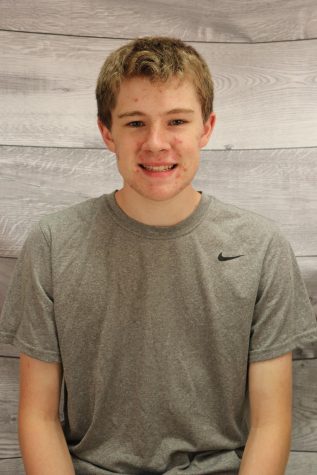 Aaron Moser, LiveStream Director
Aaron is a Senior at Arlington High School and has lived in Arlington his whole life. He is an AP and
Honors student who is also an active member of the...