When it rains, it pours: Fumbled away opportunities have drenched 4-3 Tigers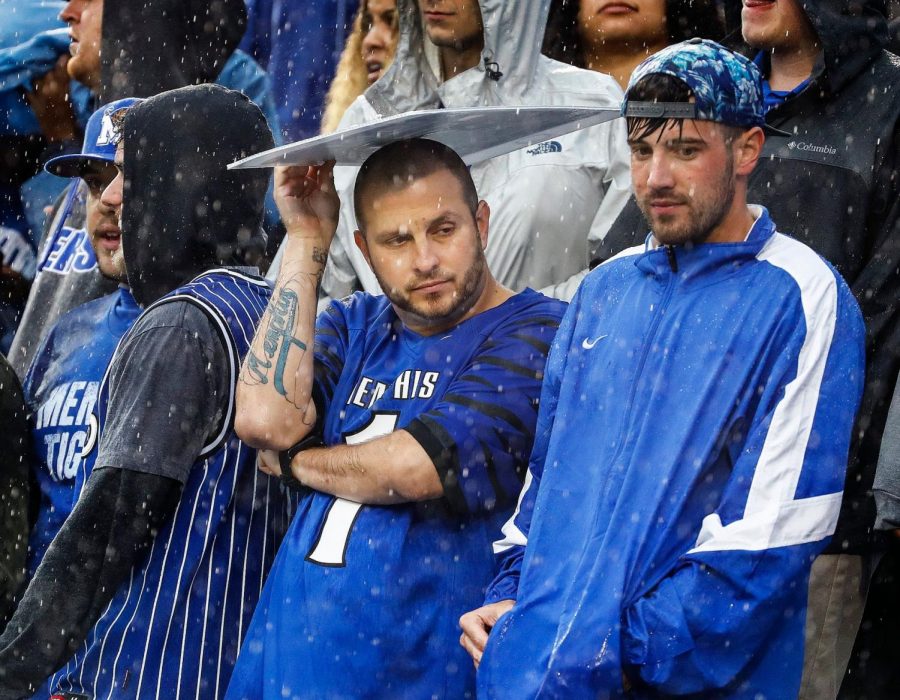 Blown leads, critical mistakes, and a loss to a 2-3 team have been the overarching themes for this Memphis Tiger football season.
They had a 12 point lead, momentum, and possession of the football with 12 minutes left to go in an early September matchup with Navy. After a direct snap and 11 yard run, Patrick Taylor fumbled off of a gold helmet and Malcolm Perry lead a rainy Midshipmen comeback in Annapolis.
They were down just 3 points with 1:30 left in the third quarter against 2-3 Tulane, but after giving  up 3 long TDs and a safety in just 7:34 minutes, the Tigers were swept up in a New Orleans green wave.
Against likely the best competition of the season in undefeated #10 UCF, Memphis blew a 16 point halftime lead in front of Saturday's raucous Liberty Bowl crowd. Fumbles, questionable calls, UCF's big plays, and yes, the pouring rain all inundated the Tigers in the second half.
I would also be reminisced if I did not mention the fact that against both Navy and UCF, the Tigers had possession with less than 3 minutes to go in the game and were only down a point. There is no doubt that the now NFL leg of Jake Elliot would have been helpful in the final minute. (No offense to Riley Patterson)
Tiger fans should be disappointed with three conference losses, but after 4 straight bowl appearances, a conference co-championship, and no-less than 8 wins in the past four seasons, expectations have increased  drastically for a once 1-11 football team.
Returning the vast majority of a defense, pairing a veteran o-line with one of the best offensive talents in college football, and an objectively sub-par non conference schedule only heightened those expectations.
However, it was also reasonable to expect speed bumps when replacing well over 10,000 combined career yards of offense and two of the greatest to ever put on the blue and gray in Riley Ferguson and NFL 3rd round draft pick Anthony Miller.
Were expectations too high for first year starting QB Brady White and this football team? Maybe, but the ultimate responsibility falls on third year head coach Mike Norvell, who chose the newcomer in White over last year's backup, and now transfer David Moore.
Not only that, a team is not judged based on the hiccups they may have in a season; they are judged based on how they handle their strengths, weaknesses, and obstacles.
Statistically, White has had an astounding start, and he did play well on Saturday, even with two controversial non-pass interference calls on the final offensive possession. And if the 4th quarter Darrell Henderson 32 yard TD run  is not called back because of a holding penalty, his performance would be widely praised.
However I do digress. Most of White's statistical prowess has come in games against a FCS opponent and FBS programs with a combined record of 5-14. He struggled to complete passes in the 2nd half against Navy, he had just 14 completions out of 30 attempts at Tulane, and throughout the season, his lack of arm strength has limited the deep passing game that was widely present with Paxton Lynch and Riley Ferguson under center.
His decision making and intellect has been impressive in many cases, but he had not shown any signs of being any sort of intentional runner until the UCF game, which is necessary in keeping a defense honest, especially in a modern RPO system. David Moore checked both boxes of having a stronger arm and better running skills. 
Which leads me to some criticisms of head coach Mike Norvell. Norvell inherited a budding program after the departure of the highly successful Justin Fuente. He has shown his talent over the past two seasons, but the offensive play calling under first year OC Kenny Dillingham and himself this season has been somewhat questionable. 
For example, in several cases, the offensive momentum has been stifled by repeated incompletions thrown by the supposed more accurate White. In the final offensive possession of the Navy game, ESPN midseason All-America team all-purpose pick, Darrell Henderson, caught and carried the Tigers 39 yards to the Navy 34 yard line. With 2:37 left in the game, two timeouts, and just 4 yards to the first down, the Tigers would proceed to throw 2 straight incompletions and then be sacked on fourth down to effectively end the game for them.
Coach Norvell took responsibility for the Navy loss, but then against Tulane proceeded to hand the ball just 7 times to Darrell Henderson, who leads the nation in seven categories. Most importantly, he leads the nation in yards per carry at 10.3, which nulls any argument that they should automatically begin passing after falling behind in the score.
It is frustrating to watch a defense play more than satisfactory, and then see an offense full of talent sputter and fumble in critical moments. It was evident at the ends of both the Navy and Tulane games, that the defensive personnel was gassed after being on the field an average of roughly 22 minutes longer than the offense in those two games, which can be alleviated by running and possessing the ball for long drives.
Even with the devastating loss to UCF, a rainbow in the clouds can be found. Memphis ran the ball 52 times and passed it just 29. Taking the pressure off of Brady White is critical moving forward, especially when one of the best players in the nation is usually lined up next to him.
This year's Memphis team is likely the deepest and most athletic team in program history, but the inexperience of the major skill positions has been a sizable downfall for a team that could easily be 7-0 at this point in the year. At 1-3 in conference play, it would take a considerable shakeup in the AAC west for the Tigers to even have a chance at a division title.
The Memphis Tigers will have another opportunity to show improvement on the road against the Missouri Tigers on Saturday at 3:00 PM CST.
About the Contributor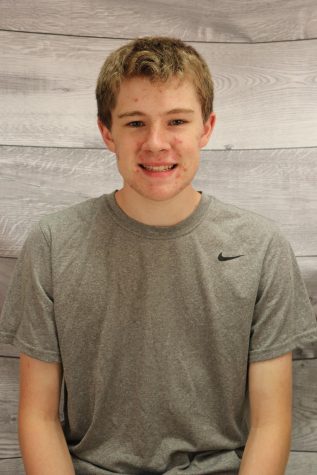 Aaron Moser, Content Director
Aaron is a Senior at Arlington High School and has lived in Arlington his whole life. He is an AP and
Honors student who is also an active member of the...